Hinamatsuri
Tenri Cultural Institute hosts a Japanese Doll Festival, or the Girl's Festival, Celebration on March 3 each year. The Fesitval signifies the wish for girls to grow up in good health.
• families with daughters set up elaborate imperial court dolls on red-felt carpeted steps in their homes
• some sets are extremely elaborate and expensive, often passed down through the generations
• once 3/3 is over the set is put away immediately for fear that by not doing so their daughter's marriage may be similarly postponed

In celebration of this occasion, Dr. Sachiyo Ito, Artistic Director of Sachiyo Ito and Company*, will perform and introduce us to Japanese Traditional Dance.
Dr. Ito performing in front of a Japanese Doll set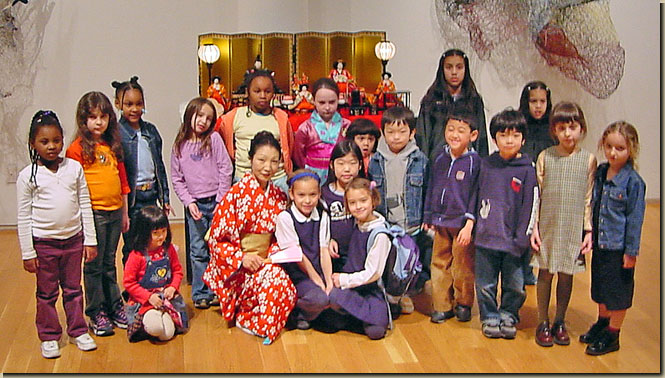 Dr. Ito with her students
*Sachiyo Ito and company was established in 1981 to promote Japanese culture and related aspects of the Japanese culture through arts, particulary dance, and other artistic performances. The Company has worked to bridge east and west through the beautiful and enchanting cultural programs.

At Tenri Cultural Institute, the Company has been hosting the Salon Series—an ongoing series of informative and educational lectures, lecture demonstrations and performances aimed at those who are interested in deepening their knowledge of the performing arts of Japan.