BE GOD
YUKO ABE
October 6-12, 2016
Opening Reception: Thursday, October 6th, 6-8 PM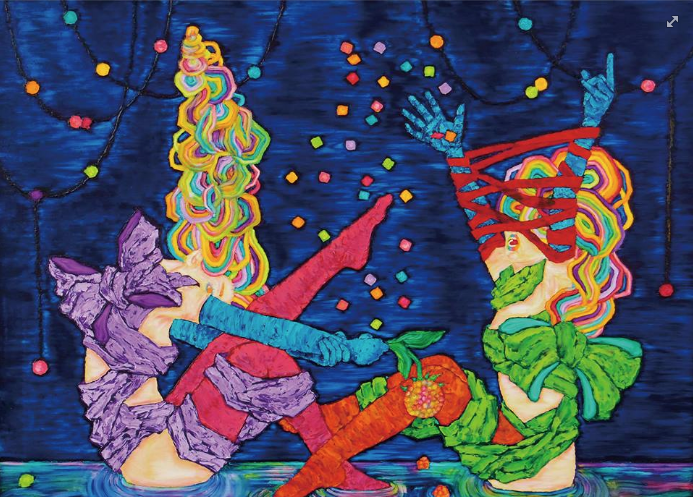 "The Art is the Philosophy. The Philosophy is the Life. The Life is the Art." Abe's deep thoughts of Human beings is based on her pursuit of an answer to the questions "Where do we come from? What are we? Where are we going?" and "Why are not Human beings perfect?".
Deep observation on Human character and nature is the main theme of Abe's paintings. A main portion of her works involve the combination of cartoons and sketches, and the discrete natures she observes of Human beings. She creates colorful human portraits on the large canvas overlapped by vivid graphic art, directly expressing the active and colorful life of people. Her paintings transcend a sense of happiness, as well as a strange humor and joy.
Through her artwork, Abe is constantly pondering what precisely is the "Human being", and continues to share and express her ideas of how wonderful life of human beings is.
Yuko Abe was born in Tokyo in 1986. Currently she lives and works in New York with the grant by the Agency for Cultural Affairs, The Japanese Government. She graduated from Tokyo University of the Arts and received B.F.A. and M.F.A.
During her undergraduate and graduate school years, she has held numerous group exhibitions in various galleries such as Shiodome Shiosite, Japan, Museum of Contemporary Art Tokyo, Japan, Yokohama Red Brick Warehouse, Japan, SpacewomB, New York, Williamsburg Arts & Historical Center, New York, and London Mur Quai de Valmy, France.
This exhibition is supported by the Consulate General of Japan in New York.