Ise and World Sacred Place :
Miori Inata
March 30 - April 11, 2016
Opening reception Thursday March 31, 6:00pm

Please click on the images to enlarge and double-click it to minimize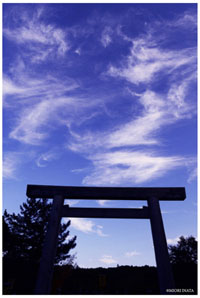 There is an overwhelming amount of information in our society today, causing people to be misconstrued between fact and fiction. Miori Inata was also influenced by this flood of information, studied modern art scenes in New York City and worked extensively, however had found it difficult to fill the emptiness she had been feeling in her heart.
It was in all this commotion she visited the Ise Grand Shrine in Mie Prefecture, Japan, and learned how simplicity is such an invaluable quality in our everyday lives. She felt peace and serenity, and with the graceful spirituality of the shrine was she able to feel tranquility in life.
The artist states, "What most impressed me at the Ise Grand Shrine was the belief that nature protects us, and that we are all a part of it." Many Japanese believe that countless individual deities are everywhere in nature, including trees, oceans, lands, the sun, and even in the air.
In 2014 the Association of Shinto Shrines exhibited her photos for a series of events called "Millennium Forest Forum." It was the first time for the association to promote its activities in the United States. Her photos were exhibited at three places: Columbia University, Brooklyn Botanical Garden, and the United Nations. She exhibited photos of the Shinto festival, Shikinen Sengu, which was taken at Ise Grand Shrine. She also exhibited her photos taken at sacred locations all over the world during the luncheon party for ambassadors at the United Nations.
After graduating from Tama Art University in Japan, Miori Inata worked as an art teacher in Tokyo. In 1991, she moved to New York City where she lived and worked as a photographer for 17 years. After witnessing the terrorist attacks of 9/11 from her apartment in Manhattan, she started to take pictures of sacred places all over the world, to find a key to world harmony. As her lifework, she has been taking photographs of the Ise Shrine in Japan. She has been exhibiting her art extensively in different places all over the world, such as at the United Nations, Columbia University, Tokyo National Museum, Shanghai Science-and-Engineering University, and Israel Museum.
In 2015 She won the Shinto Cultural Prize Her works are collected by Harvard University Photography Collection, Fidelity Investment Bank Photography Collection, Shanghai Science-and-Engineering University, Embassy of Ukraine in Japan, and so forth.
She is the author of two Japanese books titled "The Sacred Place of Water and Forest", "Ise Jingu" and "For Sacred Places."


This exhibition is supported by Consulate General of Japan in New York, J Collabo, and
Ise-Shima Summit (G7 Summit 2016) Mie Prefecture.