UNKNOWN HAREM
KENJIRO SASAKI
August 19 - 30, 2016
Opening Reception: Friday, August 19th, 5-7 PM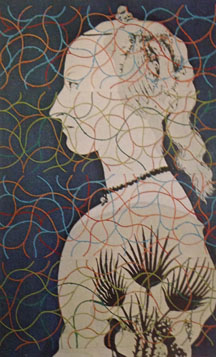 As you can see, this exhibition is about oil paintings of women's nude. You do not come across many books with nude paintings while the publications of nude photography have been flourishing. The artists asks the question, then why paint nude at this time?

The human figure has been a general theme of paintings since the beginning of art history. Towards the end of the 19th century in Europe, the Academism, which had been the main art style for a long period of time, started to decline. New art movements by young artists let to the creation of Impressionism and other creative art forms. In the 20th century, a revolutionary movement came into full swing. Post-World War II has introduced a period of innovation and avant-garde art. Deformed figures, abstract forms, art work assembled by stones, wood and metal pieces or daily materials, conceptual art, installation art, photographic or computer art-the new forms of art have continued to expand.

One cannot predict how art forms will develop in the future by our infinite intellectual evolution. However, clearly this current modern innovation art movement will someday end, just as the Academism movement had died out in the past. The artist creates these paintings in order to shed light on an antiquated art subject. Displayed are these minimal figurative paintings of naked human bodies and simple backgrounds with solid color as installation art.

Kenjiro Sasaki currently lives and works in New York. He has held solo exhibitions in Heian Gallery, Bansui Gallery in Japan and group exhibition in The Nippon Gallery in New York.