Tenri Gallery Information
Gallery Hours:
Monday ~ Thursday: 12 pm ~ 6 pm
Saturday: 10 am ~ 3 pm

Morgan O'Hara: LIVE TRANSMISSION THE HUMAN EXPERIENCE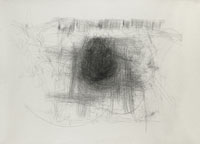 TIME/SPACE/MOVEMENT
April 21 - May 3, 2016
opening reception thurs April 21 6-8pm

LIVE TRANSMISSION: attention and performative drawing.
Morgan O'Hara's LIVE TRANSMISSION drawings track, in real time, the vital movement of living beings, transcending both figuration and abstraction, executing a direct neural translation from one human action into another. Drawing methodically with multiple razor-sharp pencils and both hands, as performative drawing, O'Hara condenses movement into accumulations of graphite line which combine the controlled refinement of classical drawing with the unbound sensuality of spontaneous gesture. Time-space coordinates for each drawing are described with the most unexpected precision in the titles.
Chigil Jang: As the Wind Flows
May 4 - 14, 2016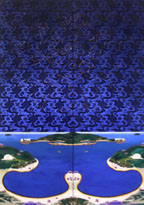 opening reception thurs May 6, 6-8pm
Based on its title, this exhibition speaks to the Daoist characteristic of bending to the elements to prevent breaking otherwise known as Daoist philosophy's following the ethical path. In fact Jang searches for his own identity through examining his Korean cultural past hearkening back even to animist beliefs. The latter inform the philosophies of not only Neolithic Korea but also modern history's, in its aspersion that all things even inert were imbued with spirit. Consequently, Korean mythology asserts that the five God spirits----Chunshin (sky-god) and Sushin (water-god) symbolized by the dragon, Sanshin (mountain god), Toshin (earth god) and the Kwishin (wandering-ghost) needed propitiation to provide for humans. Day and night are seen as yin and yang and are full and empty simultaneously as seen in many of Jang's works but also in many other Korean arts. Traditional symbols and the five elements (fire, water, wood, metal, earth) and colors/directions also have a great impact on Jang's works and are seen in combination with prints, calligraphy and flowers. Jang's materials are also traditional consisting of hand ground pigments with Hanji paper on panel.


Click here to view the floor plan.