Hyunjoo Park: The Light of Reason
May 16 - 30 2016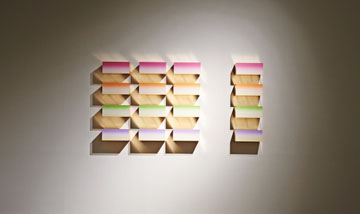 opening reception Monday, May 16, 6-8pm
Park's images have to do with light, so her critics tell us. But they can also discussed in terms of the post-minimalist aesthetic that in its pure form interacts with the viewer. Park's pieces are site-specific incorporating the gallery space within her them. The shadows caused when installing the boxlike pieces on the white walls, create secondary patterns. In fact, the shadows in No. 8, appear to be solid and discrete pieces in themselves added to the rectangular sculptures...
Eri Komiyama: Flower Garden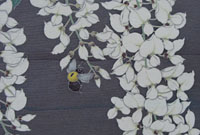 June 2 - 7, 2016
opening reception Thursday, June 2, 6-8pm
Yuzen Dyeing is a technique invented in 17th century in Kyoto where a mixture of rice paste and soybeans is used to draw delicate free-hand linear motifs on white silk.
Komiyama's tapestry is made with this Yuzen dyeing technique. Katazome, a technique that uses stencils to create intricate designs and patterns, and Roketsu, a wax-resist textile dyeing technique, are all utilized to create deep color variations within the tapestry.






Yuriko Tateishi: Silent and Movement
June 8 - 14, 2016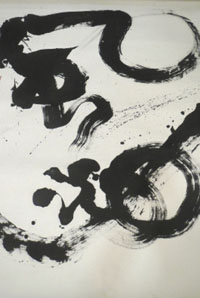 opening reception Thursday June 9, 6-8pm
Sho, Japanese calligraphy, creates the world of silence with paper and ink, black and white, and dot and lines. When the wind of emotion is incorporated in the characters, it changes into the world of movement.
Yuriko Tateishi started to learn calligraphy at age seven, studied at Nihon Syunzyuu Shogein and Nihon kyoiku Shodou Geijyutsuin. She is awarded numerous awards such as Tokyo Shosaku Exhibition and Kunitachi New Museum in Japan.






Rihaku Inoue and Koichi Terai: Fusion of Japanese calligraphy and Painting
June 15 - 21, 2016
opening reception Thursday June 16, 6-8pm

Sho is the art of the moment. Sho is the art that Japan boasts to the world. Sho is the art in which you can express your energy; your calmness and comfort. There are no borders to the concept of Japanese characters.
Ms. Rihaku Inoue is a calligraphy artist, consultant of the Japan Calligraphy Museum, and a calligraphy professor of the Japan Education Calligraphy Federation. She is also a member of the A.M.S.C (Art Maison Selecting Committee / Spain) and Paje de Los Suenos Foundation (Madrid, Spain).
Koichi Terai studied art at Tokyo National University of Fine Art and Music and originally had an interest in European classical works. Terai's main theme is natural phenomenon, such as the earth, air, trees, water, light, sounds, and so on. He also expresses people's inherent qualities. He breathes his expression and the movement of his soul into the art and creates works that move people. Recently, he has also used contemporary Japanese style as his theme.


Click here to view the floor plan.