ARTISTS TALK ON ART
present
Fusion
11/30 ~ 12/12, 2009
Opening Reception: 12/4 (Fri) 6 ~ 8 pm
ARTISTS TALK ON ART proudly presents Fusion an exhibition of the winners of the 2009 yearly curatorial contest. The show will run from November 30th-December 12th, 2009 with an opening reception on Friday December 4th, 2009 from 6-8 PM at the TENRI CULTURAL INSTITUTE, 43A West 13th Street, NYC.

This event came about as a result of a call for artists for a nationwide competition run by ATOA and their chosen curator for 2009, Dr. Thalia Vrachopoulos. The mission of Artists Talk on Art (ATOA) is to provide a forum for critical discussions in the visual arts. After over 30 years they are one of the longest running art discussions. We depend upon artists who are willing to talk about their work, share their art with others and volunteer their time. ATOA is a not-for-profit corporation run by artists.

This ATOA exhibition at Tenri features the work of nine winning artists from the 2009 competition. Because the primary consideration of the curatorial choice was the quality of art submitted, this is not like other thematic shows that have a single focus. Rather, we should look at the exhibited works as examples of the issues and themes concerning contemporary artists from around the United States presently.
Consequently, Thomas C. Jackson's color photograph series American Slice depicts the American landscape and way of life. Thomas C. Jackson was born in Rock Island, Illinois in 1950. He studied studio art at Western Illinois University in Macomb, Illinois, where he received a B.A. in 1972. He attended the University of Notre Dame where he earned an M.F.A. in 1974.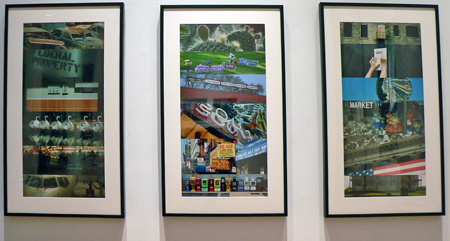 Bill Pangburn's images relate to Jackson's but not literally. Pangburn's works are abstract although inspired by the Texas Panhandle and his native Texas. His abstract works, in their blue, slate, white coloration and shape, flow like the eddies on the banks of his beloved river. Having completed his undergraduate work at Tulane University, New Orleans, he received his MFA from Pratt Institute in Brooklyn, New York. Pangburn's work has been exhibited at the Addison Art Gallery, the Amarillo Museum of Art, and the Brooklyn Museum, among other prestigious venues.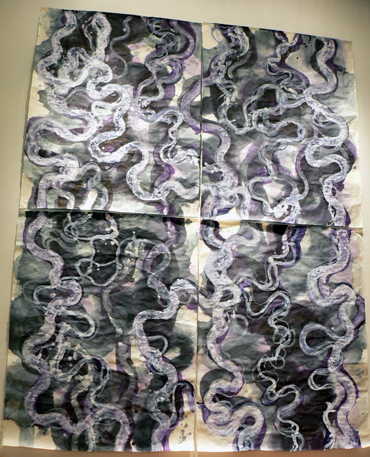 Mahtab Aslani who was born in Tehran immigrated to the United States after attending the Hochschule der Kunste in Berlin. She received her BFA at the Art Institute of Chicago and her MFA from Brooklyn College. Her recent work downplays overtly narrative associations in favor of more evocative or conceptual possibilities. She continues to use fabric as a source of inspiration but although cloth may be traditionally associated with femininity, the models for her new paintings are selected for the sake of their color, texture, and form. She tries to emphasize the sense of light, color and composition that goes into making an image that edges towards the abstract and yet induces emotional response.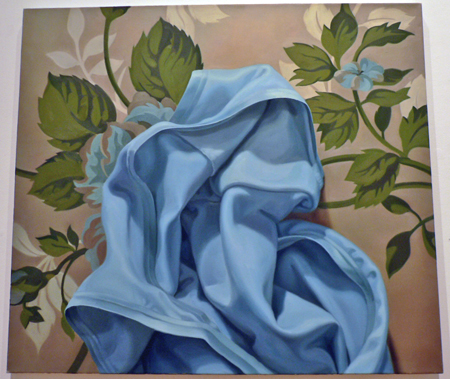 For four decades Frank Gimpaya has been producing noteworthy black and white photographs of his travels as well as the local Spanish Harlem milieu. He has gained recognition as a fine arts photographer and has been called by Vivian Gaynor of the New York Times an artist who "paints with light". Gimpaya graduated from Hunter College and currently teaches at CUNY and at Saint Peter's College in New Jersey. He has exhibited widely in the United States, Canada and Mexico, Cuba and Europe. Gimpaya has been awarded many prestigious prizes such as those by the New York Foundation of the Arts Fellowship, and the CAPS award from the New York State Council on the Arts.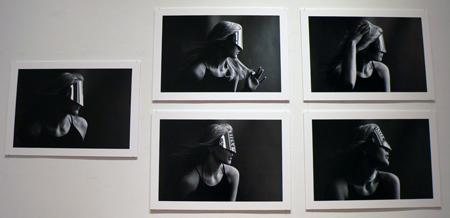 Olga Hiiva studied art at the Corcoran School of Art in Washington DC after which she went to Paris on scholarship in 1983 where she worked at the studio of Henrie Cartier Bresson. She continued her studies in Brooklyn where she earned her MFA at Pratt Institute and received a scholarship at Skowheegan School of Painting and Sculpture. Impressed by the visiting lecturer Joseph Campbell and his views on art and myth her perspective was reinforced inspiring her to create visionary works. Hiiva paints on vintage fabrics or clothing that carries within it the previous owner's history and memories. She is like an archeologist discovering these objects and rediscovering their meaning within the layers that she has accrued onto the work's surfaces. Hiiva addresses issues of motherhood, sacrifice, in both contemporary and historic contexts that serve as catalysts in provoking viewer contemplation.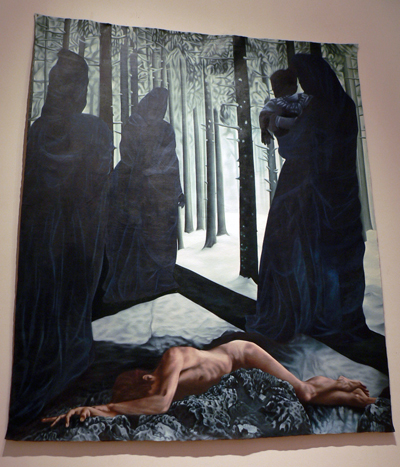 Oded Hirsch was initially educated in Haifa, Israel where he received his BA from the Academy of Design in photography and education. He now lives in Queens and received his MFA from Pratt Institute in Brooklyn. In this show he features a video entitled Ms. X which is looped and presents a woman who for unknown reasons laughs hysterically. Hirsch juxtaposes the sitter's moods during the filming that swung from relatively serious to enthusiastic. Hirsch's video imagery seems to touch upon the bizarre experience that results from repetition and how when watching or hearing something repeatedly its effects on the viewer are dulled.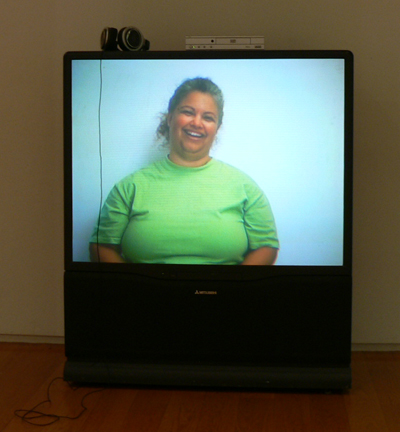 Bernice Sokol Kramer studied with Norman Raeben at the Carnegie Hall Studios and attended the Masters Class with Bruce Dorfman in New York City. Sokol Kramer earned her BA from New York University and has been awarded many distinctive prizes including the 2009 27th Annual Juried Exhibition at Pleiades Gallery juried by Nat Trotman of the Guggenheim Museum. Her mixed media sculptures are inspired by organic nature's continuous peregrinations. She documents nature's growth that sometimes interlocks, changes direction or forces itself upon a neighboring plant. Sokol Kramer's large sculptures or drawings feature interlacing shapes that maintain their organic memories.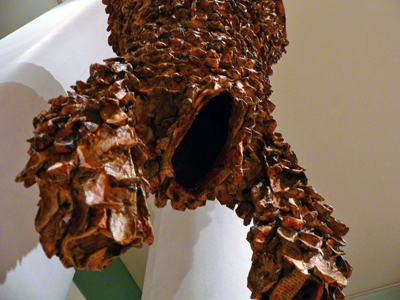 Jiwon Lee graduated from Hong-Ik University in Seoul with her BFA after which she immigrated to the United States to study at the School of the Art Institute of Chicago, and is expected to graduate with her MFA from the University of Pennsylvania in 2010. Lee is interested in opposites. She often depicts scenes of purity, innocence and creative genius against horror, violence, and death. She emphasizes their differences while placing them together creating new images. Lee uses carbon paper to draw her works adding snippets of nature which tend to unite or neutralize somewhat the contrasting scenes.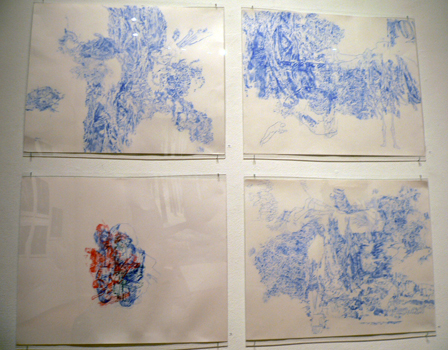 Olga Alexander is a painter and installation artist from New York City. She obtained her undergraduate degree from the University of California and her M.F.A. from the University of Tennessee in Knoxville. Alexander who is also a curator and critic herself continues pursuing the expansion of her conceptual site specific installations and works in a variety of media. Alexander continues to exhibit her conceptual work which is process oriented and centers on the fragmented way we make sense of identity, culture and experience.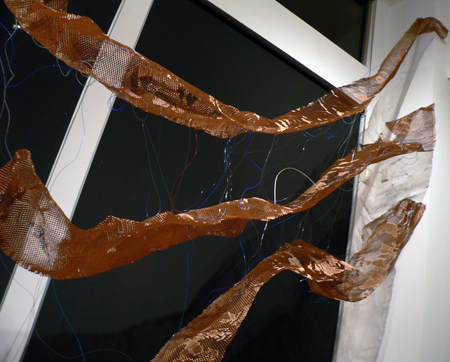 For More Information: Please write the curator and Tenri Exhibition Director Dr. Thalia Vrachopoulos at tvrachopoulos@gmail.com or call at 212-691-7978. You can also write to the Administrative Director of the Tenri at yuge@tenri.org or call him at 212-645-2800.