NEWSLETTERS

2016
2015
2012
2011
2010
2009
2008
2007
2006
2005
DECEMBER 2005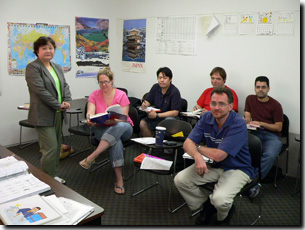 Looking back on 2005
2005 is already drawing to a close. Compared with the past year there was an increase in cultural activities—all of which were well attended. As they continue to make use of this beautiful space, the staff members will stay true in their efforts to spread the name of Tenri.

Japanese School
Since this year was Oyasama's 120th Anniversary, we set the goal for the number of students at 120 adults and 50 children. And we have succeeded in attaining that goal. We also gave out questionnaires to our students and received some invaluable comments—suggestions we hope to incorporate in the future. We would like to continue to serve our students—to keep them happy with a "bottomless kindness" on our part.
Students enjoying Japanese Class
Gallery
Altogether there were 10 exhibitions, individual and group, at the gallery in 2005—they were all very well received by the audience as as well as by the artists themselves. The artworks that have graced the white walls have all been wonderful and memorable. Most notably more than 300 people crowded the gallery to attend the opening reception of Frank Lind's At Sea
| | |
| --- | --- |
| Soprano Alison Buchanan recording "Beautiful One" 11/1 | The American Contemporary Music Ensemble (ACME) concert 4/10 |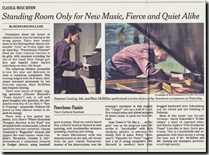 Concerts
As for concerts, there were a total of 80. Similar to last year's concerts, many were with young performers in the ever-growing New Music scene. The New York Timeson several occasions have written rave reviews about the performances as well as the space itself. Click on the image for a larger view of the article.


Others
With the help of Japanese Language School student Christiane Kromer and Jana Morishima, the Cultural Institute has published the English translation of Moto Nakayama's God the Parent's Blessings. Also soprano singer Allison Buchanan has recorded the English version of the Women's and Young Women's Association song, "Beautiful One."

Open House New York, now in its 3rd year, chose to recognize the Cultural Institute as part of 150 architecturally noteworthy buildings in New York for the 3rd consecutive year.