NEWSLETTERS

2016
2015
2012
2011
2010
2009
2008
2007
2006
2005
SEPTEMBER 2005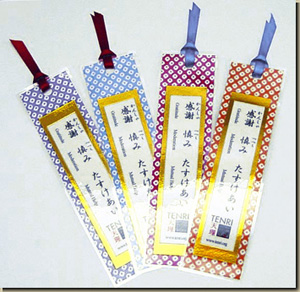 This month, we would like to report on some of the interesting things that happened during the first half of this year at the Tenri Cultural Institute.

Making of the "Gratitude, Moderation, Mutual Help" Bookmarks
Our staff made laminated bookmarks (pictured right) for our students bearing the message "gratitude, moderation, mutual help," which is the slogan for the 120th Anniversary of Oyasama. They have been very popular amongst the students, so we decided to give them as a welcome gift to new students. Some students even memorized and recited the message.

Japanese Language School Enrollment Tops 120
For our Winter Session which began on January 31st, we reached our goal (one year early) of enrolling 120 adult students by the 120th Anniversary of Oyasama. In total, 121 adult students (170 students including children) enrolled and we would like to do our best in trying to bring as many people back to Jiba next year for the Anniversary.

A Call from Prison
The Cultural Institute has been receiving phone calls from a federal prison in Alabama every week. The calls were from Ralph, a former Japanese language student and a former banker, who has become good friends with our staff members through his calls to TCI. He was incarcerated due to circumstances at his work, but does his best to remain positive and looks forward to the day that he can visit us in New York. He has continued his study of Japanese and has become very interested in the study of Tenrikyo. He really looks forward to each month's issue of Progress. Using his allotted time he calls every time with smile in his voice, but he has concerns about his family, especially about his mother who had been hospitalized. We at the Cultural Institute pray that he will receive blessings with his situation and his mother's illness. He was recently transferred to a halfway house in August, was able to meet his family, and after a difficult job search, has found a job.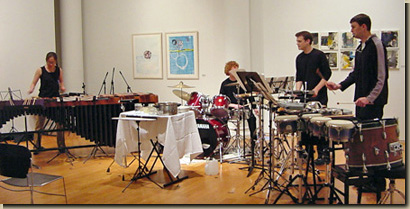 Bjork Visits
There were many Cultural Institute sponsored concerts in May, but for the concert of the percussion group Line C3, Bjork, the world-renowned singer and actress, was in attendance. She apparently had been on location on the same street (13th) as the Institute and she has been a fan of a composer whose song was performed by Line C3 (pictured right).

The Institute Makes the List of Concert Halls in New York
Time Out New York Magazine, a prominent entertainment magazine in New York, listed Tenri Cultural Institute under its list of concert hall venues. The Institute was listed alongside twenty other venues such as Lincoln Center and Carnegie Hall. The staff member who accidentally found the list could not hide his amazement and we felt that the name of Tenri is surely starting to spread among the world of concerts.

Haiku Society of America lecture
The northeastern region meeting and lecture of the Haiku Society of America was held at the Cultural Institute on June 11th. Haiku is currently quite popular in the U.S. and thus the hall was almost full. Prominent authorities on Haiku in America were also in attendance, and after the event, we were invited to dine with the staff of the Haiku Society. The people of the Society knew of Rev. Kuniharu Shimizu through his haiku listings on the internet. We talked about the Ofudesaki and there was interest in having a guest speaker talk about the Ofudesaki and waka poetry. One member also pointed out that songs and poetry from ancient times were used as an effective means of communication that was easy to understand.

Women's Instrument Practice Resumes
In April, practice of the women's instrument practice resumed at the Cultural Institute, and followers of the path living in Manhattan came to rehearse. The practice is held two days before each Monthly Service and is led by the Women's Association. Since resuming practices, some members also have come during the week to rehearse with the help of Cultural Institute staff members. Art Exhibition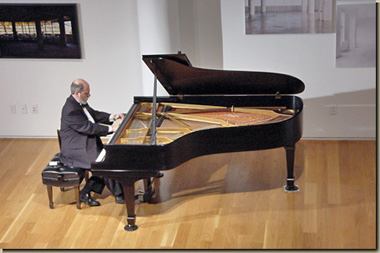 Insook Seoul Exibition
From July 16th to the 23rd, a Korean artist, In Seol, held an art exhibition at TCI. There have been many Korean artists over the years who have exhibited their works at TCI, but this was the first time that the artist happened to be Tenrikyo follower. We were all pleasantly surprised. Mrs. Seol studied at University of Pennsylvania and is currently working and living in Seoul.

The Carnegie Hall's Piano and the Cultural Institute's Piano
On April 29th, pianist Tim H. had a piano recital at TCI. Tim, who is also a staff member at Carnegie Hall, says that their piano is one of the finest in the world and that technicians from Steinway come every year to provide maintenance. Tim, who played the piano at Tenri said, "This piano (pictured right) is of the same level as the one in Carnegie Hall." We once again rejoiced at the fact that we have a top caliber piano at the Institute.