NEWSLETTERS

2016
2015
2012
2011
2010
2009
2008
2007
2006
2005
APRIL 2006

AME and TCI
by Victoria Paterson
Violinist and Managing Director of the American Modern Ensemble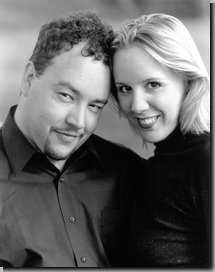 Victoria with her husband, Robert
American Modern Ensemble (AME) was founded in New York City, and from its inception has performed exclusively at Tenri Cultural Institute. My husband, Robert Paterson, is the Artistic Director, as well as a composer and AME's percussionist and conductor.
There tends to be a lot of new music concerts at Tenri, and this is no accident: word gets around in New York's vibrant new music scene that Tenri is the ideal venue for new music, and as a result Tenri is now it's the hottest space in town for chamber groups that focus on new, classical music. One of the benefits of Tenri is the intimate space where you can meet the composers after the concert at the reception in an informal yet elegant setting. Part of its charm is that there is a special intimacy and everyone feels a closeness to the performers and the composers.
Some may wonder what the phrase "new music" means. New music can mean anything from music of the twentieth century to music that's hot off the press, written by living composers. Like contemporary visual art, some new music can be challenging, stretch the limits of what's possible, introduce new ideas and provoke you to feel something you have never felt before.
AME's goal is to introduce the audience to the best new music, with a full range of styles by composers from all over America. Each season we choose one American composer to feature on a program devoted to his or her music. On any given concert you might hear anything from very tonal music to the extremely avant-garde. We feature all the instruments from strings to woodwinds, percussion to singers.
We are very happy with the space at Tenri and our special relationship with the Institute. Our first concert was in April 2005 and featured the music of my husband, Robert. All our concerts have had full houses and the response from the audience is tremendously positive towards AME and Tenri. The Steinway piano is fantastic, the acoustics are wonderful, and the overall feel of the space is perfect for presenting our concerts.
AME is having a fabulous first season- we had a "standing room only" crowd for our October concert entitled Powerhouse Pianists.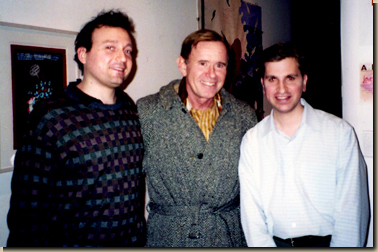 From left to right: composers Derek Bermel, David Del Tredici and contest winner Karim Al Zand at AME's February 14th concert reception at Tenri
Here's what the New York Times had to say about AME:
"The contemporary music scene in New York may seem like a niche within the niche of classical music. But this teeming musical world has an intensely loyal audience and its share of brilliant young stars... You could call Mr. McMillen and Mr. Gosling the dynamic duo of contemporary music pianists in New York. In a rare occurrence, they are sharing a recital program on Oct. 15 at the Tenri Cultural Institute, with Mr. McMillen playing the first half, and Mr. Gosling the second. Presented by a new group, the American Modern Ensemble, the program of mostly new and recent works by, among others, Chester Biscardi, Lee Hyla, Eric Moe, David Rakowski and George Tsontakis, is called "Powerhouse Pianists." And few people who have heard them would quibble with that billing for these thoroughly impressive players."

– Anthony Tommasini, New York Times, October 7, 2005
"Pessimists about the future of classical music may be looking in the wrong places. There were empty seats at the Metropolitan Opera's estimable "Aida" on Friday night, but on Saturday, 'Powerhouse Pianists' filled the Tenri Cultural Institute to its gills, with standees crowding the rim of this small West Village gallery and hopeful ticket buyers stretching out onto 14th Street."

– Bernard Holland, New York Times, October 18, 2005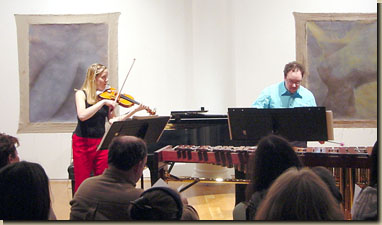 The Patersons perform together at AME's debut concert
Love and Sensuality in February was a Valentine's Day inspired concert that featured great works by composers such as Jacob Druckman, Leonard Bernstein, William Bolcolm, David Del Tredici, Alex Shapiro, and others. This concert featured a number of world-class performers, including Paul Sperry, one of America's greatest singers and proponents of American song. There was a special reception, including exquisite, gourmet desserts, champagne and strawberries—the perfect ending to a night on the town.
Our last concerts of the season on May 27th and 28th will feature the music of 2005 Pulitzer Prize-winning composer Steven Stucky, who will be in attendance. These concerts will include many of his classic chamber works, including Boston Fancies, Ad Parnassum, and his beautiful, recently written Partita-Pastorale, after J.S.B., and we will also be presenting the NYC premiere of his brand-new Piano Quintet. Please join us to meet and hear the music of one of America's greatest living composers.
American Modern Ensemble exclusively programs and celebrates American music. This unique philosophy makes AME a real standout among the diverse new music groups in the United States. We provide a terrific forum for the diverse cornucopia of American composers in an intimate setting at the Tenri Cultural Institute.
Visit our brand-new website at www.americanmodernensemble.org to see more coverage and upcoming concert information. American Modern Ensemble is a non-profit organization where tax deductible donations can be made that ensures a successful first season and beyond that, a successful future at the Tenri Cultural Institute.