NEWSLETTERS

2016
2015
2012
2011
2010
2009
2008
2007
2006
2005
DECEMBER 2006
Sprinkling the Fragrance
By Matthew Wise
Guided by a life-long fascination with the traditional arts of Japan, I began studying shakuhachi with Ronnie Nogetsu Reishin Seldin in 2001. It was through him that I was first introduced to Tenrikyo. During one of his annual tours to Japan, we visited the beautiful village of Tenri where he encouraged me to attend the Besseki lectures. Soon thereafter, I began reading the Ofudesaki and often spoke with him about Oyasama's teachings. In April 2003, I returned to Jiba where I received the Truth of the Sazuke and became a Yoboku. Each year I look forward to my next trip to Japan and to my next opportunity to return to the Jiba.
Through Ronnie-sensei's encouragement, I also began taking Japanese language classes at the Tenri School in Manhattan. As of this writing, my seven other classmates and I have just finished Book 1 of "Japanese for Busy People." Although the Japanese language has been quite challenging to learn, we have been having great fun in doing so. My class is extremely lively and high-spirited. We work together as a team, often helping each other to understand the finer points of grammar or to suggest new uses for vocabulary words. And we have had a lot of laughs together. Sometimes we have even made our teacher, Mayumi-sensei, giggle. We enjoy "hanging out" together in the art gallery of the Cultural Institute before class, and we always celebrate the completion of each 7-week session with a party at a nearby restaurant. For Halloween, we all dressed up in costumes. And yes, even though I am a tall American man with a moustache, I wore a sera-fuku (Japanese schoolgirl's uniform) and a wig that night to class. Like I said, we have had many laughs.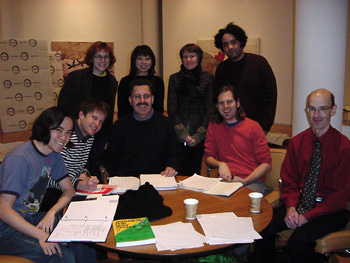 Teaching Origami at the TCI New Year Party
So, I understand that it is rather unusual for a Yoboku to be taking
classes at the Tenri Language School, which is why I was asked to write this story. But how has my experience at the School been different from that of the students who are not followers of Tenrikyo? And has my presence as a Yoboku had any effect upon them?
Certainly, there have been many occasions when I have spoken with my fellow students about my experiences in Tenri and with the followers of Tenrikyo. And there have even been a few opportunities to subtly "sprinkle the fragrance" of some of Oyasama's teachings at the School. But has Tenrikyo really had any impact on my fellow students, other than just by providing a place for them to learn Japanese? Yes, I believe that it has. I believe that, oftentimes, the most profound teachings come not from our words but from our actions, and sometimes the teachings come back to us from those who are not Yoboku. This has been my experience with my Tenri classmates.
In the year that I have spent at the School, I have met many friends who are joyous and spirited. They love their jobs; they love their friends; they love their lives. And despite the many complexities of learning the Japanese language, they enjoy devoting countless hours to the study and practice of a skill that will bring them closer to their brothers and sisters in another part of the world. Generally, I see that most of the students live their lives in harmony and with mutual support of one another. And when I am with them, I am reminded of the great gifts that God the Parent wishes for all of us.
Even when I have had difficulties in my life, as I did recently when my partner spent five weeks in the hospital, my friends at the School were there to help me settle my mind in acceptance of the present moment. They reminded me to avoid self-centered thoughts and to continue striving toward my true and original state of joy. When I was feeling discouraged or lazy, they were there to help me become spirited once again, to reflect upon my continuing progress, and to be thankful for the help and guidance that I have received. Are not these the teachings of Oyasama? My only wish is that I have been of at least the slightest bit of assistance to them in return.
- Matthew Wise