NEWSLETTERS

2016
2015
2012
2011
2010
2009
2008
2007
2006
2005
JANUARY 2006
New Year's Greetings
Toshihiko Okui, Executive Director, Tenri Cultural Institute
Happy New Year 2006!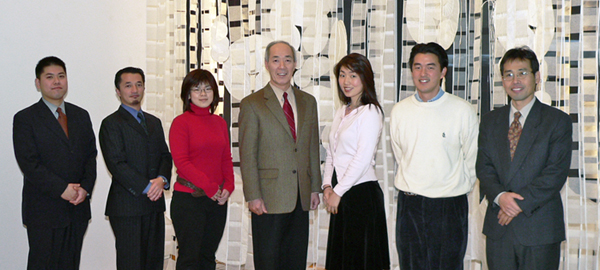 In February 2006, we will welcome the 15th year of the Tenri Cultural Institute, which was established in 1991.
As I look back on the past 15 years, from the time before TCI was established until now, many people have contributed their brainpower, time, and energy to TCI. When I reflect back on the faces of each individual, I can picture nearly 100 people. The Cultural Institute would not be where it currently is without everyone's sincere efforts and my feelings are full with gratitude.

Recently, when we welcomed the 10th anniversary, I wrote an article titled "10-100-1000." It has already been five years since then. Do you know what these numbers stand for? These were the numbers of the Japanese school students.
The first "10" stands for 10 years, the next "100" stands for the number of students for the first term, and the final "1000" stands for the total students registered since TCI's first year. If we follow the same pattern, the numbers would be "15-128-1680" as we welcome its 15th year. This is only for the Adult Class. If we also include the number of children who have attended since we started the Children's Class in Fall 2002, we would have "15-182-1750." This is something for which we can be truly thankful.

Activities at TCI began with Japanese language courses as our main focus of attention, and then we used the available gallery space to hold art exhibitions and concerts that began our meeting with pianist Mr. Albert Lotto. These three pillars are our main activities, which have not changed in over 10 years.
In the five years since we moved in Fall 2000 from Soho to our current 13th Street location, not only did we see an increase in registered students, we especially have seen even more people visit the Cultural Institute for concerts and art exhibitions.
We are often taught, "The Path is what it is because it continues." Although TCI has benefited from word of mouth that has been the result of 15 years of sincere dedication and remarkable performance by our instructors and staff, I believe the basis of our current success comes from their hinokishin spirit, which produces a comfortable atmosphere within the beautiful walls of TCI.

At our establishment, the Bishop at that time, Rev. Tomoharu Itakura, wrote in the Cultural Institute pamphlet, "The New York Tenri Cultural Institute was established and set up in one corner of a big city in which people from all over the world gather, as a place of bliss and harmonious union of God and humankind." Furthermore, Rev. Noriaki Ryono wrote in the New York Center Announcements (the precursor of Seijin/Progress newsletter) dated March 26, 1991 of the mind of determination and resolution as the Cultural Institute was established. I would like to quote a few excerpts from his article.

Since we have prepared to advance into New York, sprouting from a small, peaceful and happy Tenrikyo community in Queens, I have always doubted whether it is possible for us to manage this project […] The reason we have never given up hope, even though we have a feeling of helplessness and many questions, is because we have believed that what we were trying to do was what Oyasama was hoping for us to do. Also, we have been afraid of ourselves retreating back into our comfortable security […] At the time of the opening of Tenri Cultural Institute, we can see the light which the Institute will shine in 10 or 20 years just like a beacon lamp seen far out. Whatever will happen, we will never stop our effort toward our goal.

It has been 15 years since, and we will observe Oyasama's 120th Anniversary this year. As this year is the year of Oyasama's 120th Anniversary, the Shinbashira has informed us, "Throughout this year, let us bring back as many people as possible to make the Jiba as cheerful a place so Oyasama will be joyful."

As one way to bring together our hard work in the past 15 years, we staff members are determined to make a concerted effort to bring back and invite as many people to Jiba. I would like to ask you for your continued encouragement, support and cooperation throughout the year.