NEWSLETTERS

2016
2015
2012
2011
2010
2009
2008
2007
2006
2005
MARCH 2006

About Spreading Japanese Culture
by Ronnie Seldin

Recently, I have been thinking a lot about the subject of Japanese Culture, and its spread into American Society. In large part this has been due to the support of Michael Yuge, who has encouraged me to write this article, as well as agreeing to be the organizer of the program in which I will be the moderator during the upcoming Tenri Forum from July15 - July 17, 2006, at O-jiba. The name of the program I am to moderate is "Tenrikyo and its Promotion of Cultural Activities."
In addition, in this week's weekly New York Japanese Newspaper, there is an article and photograph of me in my Shakuhachi studio. So, please bear with me while I do my usual rambling!
For those of you who do not know me – a brief introduction:

1. I first became involved in Tenrikyo in 1973 (33 years ago). I have considered Tenrikyo my exclusive spiritual path from every moment since then.

2. I also became quite dedicated to the study of the Shakuhachi at the same time. Within two weeks of my beginning to study, I felt (and told everyone) that this was what I was going to do the rest of my life.

3. Originally a Kosha, my Fellowship – HON NEW YORK (under Soryo Bun-Kyokai, and Tohon Dai Kyokai), became an official Fukyosho in 1980. At present we have over 50 YOBOKU, and over 50 more NAKASEKI (those who have begun the Besseki Lectures but have not yet finished them).

4. In terms of my activities with the New York Center, as one of the handful of original members (and Board Members), I was fortunate enough to be involved in all of the decisions in the first 20 years of the Center. I also did NISSAN (daily worship) at the Center for 10 years without missing a day when I was in New York, headed the NY Center Seinenkai (Young Men's Association) for 9 years and was a Vice-Chairman of the Seinenkai of America.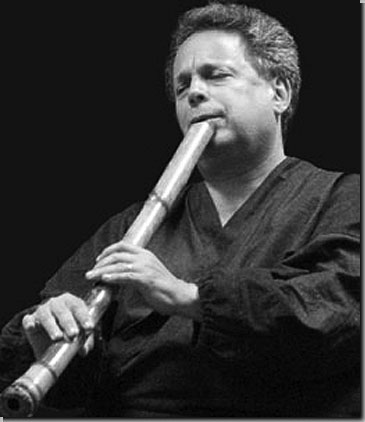 Ronnie playing the Shakuhachi
Well, to the point of this article. I have long been involved, as a professional Shakuhachi player, in all aspects of spreading Japanese culture to the United States. But, perhaps more than that, due to the way my Ri-no-Oya (spiritual parent) Kamijo Hideaki-Sensei, taught me (through action even more than words) that the basis of Tenrikyo was to "give-and-give", rather than "give-and–take" (which I was raised to believe). With this idea (basically hinokishin- the way I define hinokishin), one just tries to do things to make others joyful (the way Oyasama did), without any thought of receiving anything back in return.

When I was much younger, there was a very small interest in Japanese Culture in this country. There were no sushi restaurants, the only authors translated were Mishima and Kawabata, no manga or anime, no interest in Japanese music, art, ikebana, tea ceremony, etc. The Japanese language, while taught at a few universities, was not considered to be that important.

However, in the early 70's, a number of us felt differently. In a way we were pioneers, in that we went to Japan and proceeded to study the traditional arts. We could go for 6 months, even in a city like Kyoto (where I lived), and not even see another non-Japanese person. In this pursuit, though, I was similar to the others. What was different for me was meeting Kamijo Hideaki Sensei. His teachings made me switch the accent from what I could get for myself to what I could give to others.

With this understanding, I constantly wanted to try to push towards the foundation of the Tenri Cultural Institute. I am afraid that I truly did antagonize some members who did not see the importance in the same way that I did, but I would like to think that my original vision and persistence had to do with the creation of the Tenri Cultural Institute. Of course, there were so many others whose efforts were also indispensable.
I even felt so strongly, that at one point I did what only a non-Japanese could do. I went "over the heads" of my direct superiors and even set up a meeting with Iburi-Sensei in O-Jiba to plead my case for the necessity of the Cultural Center. I also remember going out with Rev. Okui to plead with the Board of Directors at Dendocho for the Cultural Institute's formation.

You see, I feel strongly that this should be our prime Mission here in the United States because, if Tenrikyo is a religion that seeks to do things for others, it cannot do this by just doing the Service. It is necessary to "reach out" and help others. Now there are other ways to do this such as helping homeless people, helping people in hospitals, but as a musician who performs Japanese Music, I have found the best way for me.
On a practical level, I am fortunate because my Kami-Sama (shrine) hangs over the table where I do my daily Shakuhachi teaching, and when I do my O-Jiba Gaeri once or twice a year (since 1980), I always take back students who do the Besseki Lectures. Many of them become Yoboku.

And thanks to Kami-Sama, I have been successful in my attempts to spread the wonderful music of the Shakuhachi. I personally hold two Grand Master Licenses (Dai Shihan), the most recent one at the never–before-awarded level of Kyu-dan (Ninth level) from the Shakuhachi Living National Treasure (Ningen Kokuho - Aoki Reibo). My school, KiSuiAn Dojo is the largest and most active in the world outside of Japan with about 80 active students, with four branches, and remote students in 26 states and 6 foreign countries. Perhaps one of my greatest accomplishments was the conception and production of the 4th International Shakuhachi Festival here in New York (at New York University), where we had the largest gathering of non-Japanese Shakuhachi players in history.

I hope that I will see you all at O-Jiba this July. I would love to hear what all of your feelings and opinions are on this subject!