NEWSLETTERS

2016
2015
2012
2011
2010
2009
2008
2007
2006
2005
OCTOBER 2006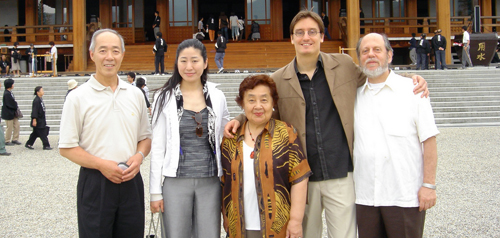 Left to right: Rev. Okui, Yuko Miyagawa, Mrs. Asakura, Mark Gothoni, Dr. Lotto,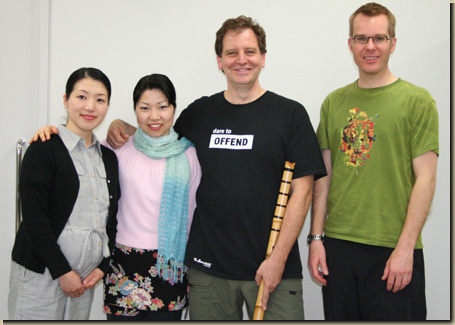 Left to right: Hanae, Yoko Kimura (shamisen), James Nyoraku Schlefer (shakuhachi) and his student
From the Cultural Institute
Lending a hand to the pulse of Jiba

Toshihiko Okui
The South Right Wing 2 of the Oyasato-yakata building complex in Jiba, completed ahead of the 120th Anniversary of Oyasama, has been hosting an
array of events this year including the Basics Course, displays of Kagura-masks, photo exhibitions of past Anniversaries and details of overseas activities. Also in the basement, the film God the Parent's Blessing and other films about Oyasama are being projected onto 3 large-screens.
The fourth and fifth floors have been constructed to create an atrium, the first such multi-purpose space in Jiba. It has been named "Joyous Hall" and seats approximately 400 people.

Events such as concerts and lectures are being been planned on the Saturd
ay and Sunday before or after the Monthly Services held each month on the 26th. Since the Cultural Institute planned the events in May and June, we would like to introduce some of them now.

On May 27th, we had New York-based shakuhachi player James Nyoraku Schlefer (Tohon, Hon New York Fellowship Yoboku) perform in a concert entitled Japanese Music from Japan and America. Performing with Jim was Rekano Kimura, performing on a three-string shamisen.

Jim, who is a current student at the Cultural Institute's Japanese School, also performs regularly at the School's Cultural Events hosted for its students. As for his co-star Ms. Kimura, she stopped by the Cultural Institute this January asking if she herself could perform in the space, having heard about it from a friend who had previously held a concert. She had mentioned that she was a professional musician based in the Kanto region of Japan and was finishing up her Japanese Music studies at Tokyo Gakugei University and, as luck had it, Jim had come that day to attend his class so we were able to introduce them to one another.

Since Jim was planning a late-May visit to Jiba with a Besseki, we proposed the idea of a joint concert in Tokyo—which, upon returning to Japan, Ms. Kimura immediately organized for June 14th. We then asked if they would be interested in performing at Jiba as well, to which they both agreed whole-heartedly and that is how this Joyous Hall concert came to be.

Jim had composed and performed a new song for the occasion entitled "Duo." Ms. Kimura arrived and they began rehearsing in Jiba from the 25th, and Jim was also able to attend the Monthly Service for the first time on the 26th. The person who acted as Ms. Kimura's general caretaker, Main Sanctuary guide, and even translator for Jim was the former TCI Japanese instructor Hanae Nishimura who was 9-months pregnant at the time (maiden name Sakagami).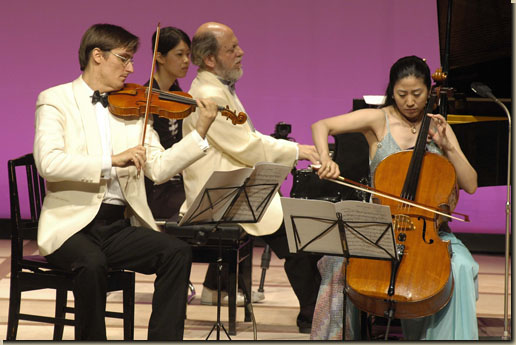 Yuko Miyagawa (cello) performing with Dr. Lotto (piano) and Mark Gothoni (violin)
On a separate note, Cultural Institute Performing Arts Programs Director Albert Lotto (Mission Headquarters of America Yoboku) held a piano concert with Mark Gottoni on violin and Yuko Miyagawa on cello.

It is the second visit for Dr. Lotto, who visited Jiba on January 26th for Oyasama's 120th Anniversary, and it was his longtime wish to perform in Jiba.
Mr. Gottoni and Ms. Miyagawa are professionals based in Germany and Japan. Dr. Lotto has accompanied Ms. Miyagawa frequently the past couple of years and the trio has been performing more as well. Though I was introduced to the two of them in March, I already knew Ms. Miyagawa's father Hidemaro Konoe had composed the Women's Association and Young Men's Association songs, so I felt a connection in the Path and I asked them to consider giving a concert since they already had one planned in Nara on June 24th.

They spent the eve of the concert in Jiba and performed at 11 in the morning the next day, having prayed at the Main Sanctuary and received instructions from Yuji Okui.

Although they said it was their first morning performance in a concert hall, elegance flowed throughout their performance. Concerts at the Joyous Hall are broadcast live to all dormitories and places related to Headquarters, and are rebroadcast throughout the year.
In the beginning of the year, the Shinbashira asked that as many people as possible return and make Jiba a lively place so that we may please Oyasama. We at the Cultural Institute will try to respond in a uniquely Cultural Institute way.

On December 17, in the final month of the 120th Anniversary, Mai Motobuchi will be performing at the Joyous Hall as part of the Borromeo String Quartet.