NEWSLETTERS

2016
2015
2012
2011
2010
2009
2008
2007
2006
2005
SEPTEMBER 2006

My first trip to Japan--and hopefully not my last
Kari Burke-Thomas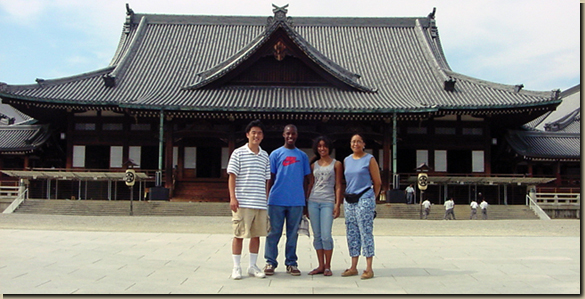 From left: Michael Yuge, Kari, Maya, and Terri-Ann in front of the Main Sanctuary
There are so many things I can say about it that it's almost indescribable. From the homestay in Nara to the church stay in Tokyo, it was a highly entertaining and a surprisingly educational trip. Upon arrival at Kansai International, I felt like kissing the ground beneath my feet. I was finally there, the place I have wanted to visit since I was four years old. The first night at Tenri was a nice introduction to the city. That day I had my first curry dish--one of many to follow. Later, we enjoyed band performances in the Oyasato Parade. While in Tenri, we also took a tour of the Tenrikyo Headquarters. On our last night there, we were treated to dinner by some of the new people we had met. There was a lot of food. In Nara, during the homestay--the best part of the trip for me--is where I met my host family, Megumi, Koji, Tsubasa, and Nazuna. Together, we had a barbeque at the river, played English and Japanese games at night, went to a pond, and I did my first purikura [photobooth]. I really didn't want to leave because on those two nights, I felt like a part of their family already.
Next, was the historical city of Kyoto, filled with temples and shrines, it was a tourist destination even for the Japanese. I used my Japanese the most on this part of the trip, of which I am very proud. Sensei, Maya, and I visited Ginkaku-ji, the Path of Philosophy, Kiyomizudera, and Nijo Castle. Although hot, the sightseeing and tofu Michael treated us to made up for the heat. In Tokyo we were in very friendly company. We enjoyed Monjayaki, the Tokyo Tower, and I had my second round of hanabi [fireworks]. I even got to hold a sword made by a famous sword-maker. The church stay was a pleasant experience--I still remember the hand movements and parts of the dance during the Service. Plus, my room there was the best. Rev. Shirokihara treated us very well and made our stay in Tokyo even better. I also had the chance to meet up with a pen-pal. Thanks to Michael, his family, and everyone we met along the way, my first trip was even better than I could ever imagine. Thank you.
Maya Majcen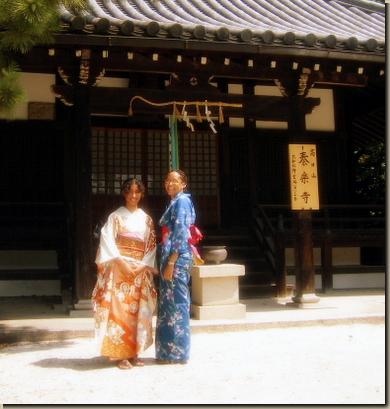 Maya Majcen (left) and Terri-Ann Abrams in front of a traditional shrine
First off, I would like to say how amazing the trip was and thank everyone who made it possible! All aspects of it, including the food, culture and people, were breathtaking. My most memorable moment in Japan was when I wore a kimono while I was with the Umemoto family. The kimono was extremely beautiful and pretty. With all the layers and tightening of the obis, I felt hot and ready to diet, but I would be happy to don one again. My host family was so kind and generous towards us, that I have to apologize for my Japanese being so limited. Kari's Japanese was helpful, and Sensei and I probably would not have been able to make it around Kyoto without him. Although Japanese food fills me up very quickly, I always wanted to eat more. Also, I do not think I have ever had so much green tea in my life, but I did enjoy it.
The technology in Japan is years ahead of America and I can only wish we had the same. While in Tokyo it started to rain so we rushed into a store. Inside, there was a booth where you could get your phone customized with the coolest graphics and rime-stones. In an Odaiba shopping center, we went into a SONY store that had futuristic phones and gadgets. There was also an interesting 60's themed floor of the mall. I was also struck by how kind the people we encountered were. One lady, who we asked for directions, stayed and walked with us until we got to the destination. It was kind of her to take time out of her schedule to help us. All the sites we went to were striking and expressed the many talents of the Japanese. I hope to visit Japan again, hopefully finding my cousin Kari living there.