MARCH 2007
February has come and gone, and already it is March. At the end of March, there will be a change in the staff here at TCI. In this issue, we would like to introduce some of our recent events.
Our Talented Volunteers
Recently there has been surge in people interested in interning/volunteering at the TCI. For the month of January, Susie Liu, a college student from Maine (though she is from Queens, New York), came in every day to help us out. Ms. Liu found us through the Japanese Consulate's website and contacted us via email. Though the Institute is not necessarily looking for interns, we have been getting an increasing number of inquiries from students who are interested in interning. We are fortunate to have these talented people who are capable of completing difficult translation or computer projects. The experiences the volunteers have here not only add to their resumes or count for college credit, but also become invaluable opportunities to interact with the staff as well as partake in the many events held at TCI.

Winter Session Starts
With 103 students enrolled, the Japanese School's Winter Session began on January 31 and will conclude on March 21. This is the fourth session since we started to use the new textbook, Minna no Nihongo (Everybody's Japanese). This transition was challenging but worthwhile since we are now using the same text that is used in training our teachers at Tenrikyo Language Institute and in our sister schools around the world. This will be the last semester for instructors Kumi Yokoyama and Satoru Sasaki.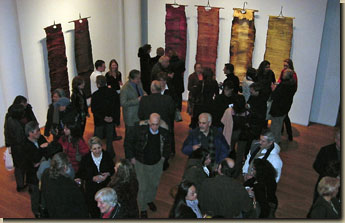 Opening reception for the Giordano show
Gallery Opening
From February 7 to March 3, we had an art exhibition of impressive paper works utilizing Japanese washi paper by local artist, Joan Giordano. The opening reception on February 13 was a big hit with many art critics and artists in attendance. Artist Goro Nakamura, who currently has his own show at John Jay College, was in attendance along with a documentary director from Nagano Broadcasting who is creating a film about Mr. Nakamura's show.

The First Musical at the Institute
Colors: Brothers Beneath the Skin, a musical about racism featuring an all-African-American cast, (which premiered in 1991 at the University of Michigan) was performed on February 11. This particular night was an open dress rehearsal. TCI has had numerous events in the past, but this was the first musical to be performed in the space. Audience members and cast alike both had no trouble getting used to the space, and the performance was received very warmly. Since the show featuring the same cast is scheduled to have a performance at the University of Michigan, this open dress rehearsal was primarily to find a sponsor in New York.

New Instructors Arrive
Makoto Kuboi and Yoshinori Fukagawa, of the 9th Young Men's Association Overseas Deployment contingent, arrived on 2/14 and began their tenure as Japanese Instructors at the Institute. Despite arriving at the Center at 2am due to delays caused by the snowstorm, they promptly showed up at the Institute the next morning and began their training.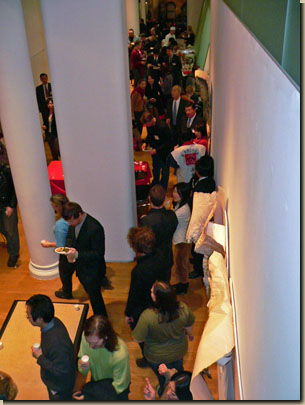 Audience members listen intently to the sake lectures
Kyoto Night
Kyoto Night—a promotional event hosted by the Kyoto-Nara International Tourism Board—was held on February 22 from 6 to 8 p.m. Approximately 150 people attended the event including various members of the press ranging from the New York Times, NY1, to ABC News Magazine along with our own Japanese School students. The approximately 20 members from the Tourism Board extended a greeting to the American audience from the mayor of Kyoto. Along with the introduction of Kyoto's famous Kiyomizu-dera Temple, vicepriest Daiko Matsuyama of Myoshinji Temple gave a lecture on sake. Attendees enjoyed two different kinds of sake, Gekkeikan and Tamano Hikari, along with hors d'ouevres served by SoHo's Japanese restaurant Omen.

This Month's Concert
TCI hosts at least 80 concerts per year, March and April being the busiest months of all. This year is no exception—31 are scheduled to take place in the upcoming two months. Of particular interest to our readers is the following concert:
On March 30 and 31 from 8 p.m., Colin Jacobsen will hold a recital. Mr. Jacobsen started playing the violin at age four and has performed with the New York Philharmonic when he was 14. He is a soloist as well as a key member of cellist Yo-Yo Ma's Silk Road Ensemble. This concert will feature his own acclaimed ensemble. This concert is also a fundraiser for the Sanctuary Construction Fund. For more information, please go to our website at www.tenri.org