NEWSLETTERS

2016
2015
2012
2011
2010
2009
2008
2007
2006
2005
MAY 2007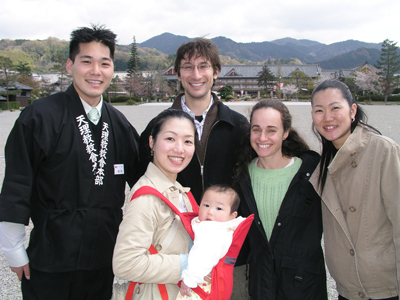 From Tenri in New York to Tenri in Japan and Back Again
By Caron Eule, TCI Japanese Language Student

I first came across Tenri in 2001, when I had planned a trip to Japan with my boyfriend David. After taking one 7-week Japanese course, I fell in love with the language and the intimate, personable atmosphere at TCI. I was all ready to use my "omedetou gozaimasu" and "ganbatte kudasai" when I went to Japan, but when I got there, I realized I couldn't get by on this alone. So, I returned to TCI when I got back and continued taking lessons and grew more and more comfortable with the language.
Over the years, TCI hasn't only been a language school, but also a performance venue and a place for celebrations. I've enjoyed several mochi pounding parties in the Tenrikyo Mission in Queens and New Years' parties at the TCI filled with every delicious Japanese food you could possibly imagine.
Since TCI is a performance venue, my dance company, C. Eule Dance, has been involved in two different performances throughout the years, and I even met violinist Colin Jacobsen at one of their piano series, which resulted in a very successful collaboration.
Not only has the staff at Tenri always been friendly and helpful, but they continuously surprise me with their generosity. I once asked for a donation of one Japanese lesson for my dance company's auction, and instead, they gave me a session of 14 lessons. This ended up being the auction item that received the highest bid, and Jeremy Kasha, who bid on the lessons, still attends Tenri today. Tenri has donated their Japanese lessons to each of C. Eule Dance's auctions after that.
Recently, David (who is now my husband) and I were planning a trip to Japan to celebrate our friends' wedding in Kyoto and to visit my new half-Japanese baby cousin. Reverend Okui and Michael Yuge went out of their way to help us find accommodations and to get us in touch with my old Tenri teachers, Hanae-sensei and Kumi-sensei, who had also become my friends. The trip was amazing.
Over our ten days in Japan, we traveled from Tokyo, to Hamamatsu (where my cousin lives), to Tenri City to visit Hanae-sensei and Kumi-sensei, and then to Kyoto for our friends' wedding. Hanae-sensei and her husband generously welcomed us into their home, where we felt like we were staying in an exclusive ryokan. We slept in a traditional Japanese room with tatami mats, and Hanae-sensei cooked us a delicious Kyoto style kaiseki meal with lots of little interesting courses. The next day, she took us to meet Kumi-sensei and Reverend Okui's son, Yuji Okui, who gave us a tour of the Tenrikyo Sanctuary. The shrine is set on vast grounds with cherry blossom trees leading up to it and mountains rising in the background. Yuji showed us around the Main Sanctuary, where he explained that the worshippers could worship from any direction: north, south, east, or west, all facing in towards where the followers believe that man was created. He also showed us the smaller shrine dedicated to the Foundress and explained more about the Tenrikyo religion. During our visit, we witnessed the first day of school for some young college kids and others who were coming to pray as well as some Norwegian tourists who also came for a tour. Most of the people we saw in Tenri City wore a black happi coat with Tenri written in Kanji on it (if my small knowledge of Kanji serves me right.)
The next day, we took the Shinkansen to Kyoto where we spent three days. We were very fortunate to be there at the height of cherry blossom season, and the Japanese take their cherry blossoms very seriously. The cherry blossoms were in full bloom wherever we went, and we mostly enjoyed viewing them at Arashiyama (along the Ohi River in the western part of Kyoto.) We saw several girls dressed in kimono to view the cherry blossoms and to pose for photos in front of them. We also climbed the Monkey Mountain where one can view many monkeys and even feed them. The first night in Kyoto we stayed in a very nice ryokan that Reverend Okui had arranged for us. In our room, we were brought courses and courses of fine kaiseki ryori. The nabe course was presented in a paper bowl suspended over an open flame, which we found very unusual. Too full to go out after the meal, I put on my yukata and slippers and made my way to the bath where I met a couple of Japanese women and their daughters who seemed a little surprised to see a "gaijin." Though the whole ryokan experience seemed very traditional, the only thing that showed the opposite extreme was the high-tech toilets found in most bathrooms I visited that had an automatic seat-warmer, a bidet and an artificial flushing sound to mask any other sounds one wouldn't want their neighbors to hear.
The following day, we attended the wedding of our friends Yuu-san (a native Kyoto girl) and Phil (a native Kansas boy) who both live in New York. Their ceremony was at one of Kyoto's most famous sites, Heian Jingu (a Shinto shrine.) We fought the crowds of cherry blossom viewers to join the rest of the wedding guests. Yuu-san and Phil both wore traditional kimonos, and after the guests were separated into waiting rooms with the bride and groom, we were led into the shrine. The atmosphere was very serious and exotic. Musicians played atonal music in the background and ancient rituals took place, including the couple bowing to some type of fish sculpture made out of gold wire. At the end, the "shrine maidens" came around and poured sake into these flat sake cups that were placed in front of each guest, and we had to sip three times. The reception, which took place at a catering hall, was much like a Western reception, other than the performance of a traditional Japanese dancer and the exotic cuisine including a sea urchin in its shell.
As all good things must come to an end, we had to fly back to New York a couple days later, feeling like there was so much more we wished we were able to see. At least we know that we can get our taste of Japan at Tenri where we can keep studying the language and learning about the fascinating culture. David has now signed up for Japanese class too!