NEWSLETTERS

2016
2015
2012
2011
2010
2009
2008
2007
2006
2005
NOVEMBER 2007
This month we are featuring former New York Japanese Artists Association President Keiko Koshimitsu.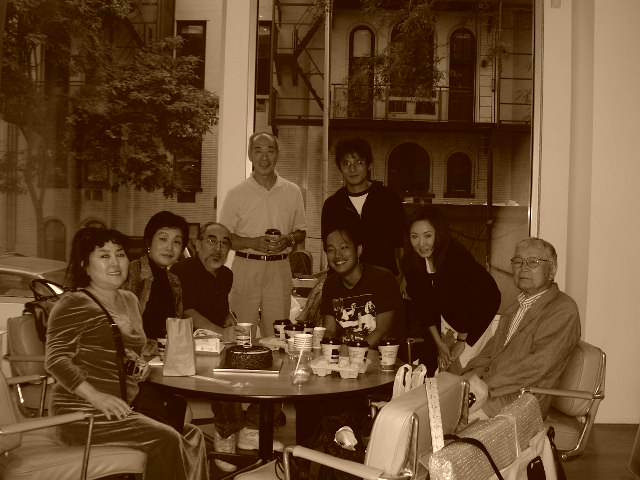 Rev. Okui with members of the Japanese Artist Association. Ms. Koshimitsu is the second from the right.
Encountering Tenri Cultural Institute
by Keiko Koshimitsu

Staking their future successes in their talents, young artists from all over the globe flock to New York. I was one of those young artists when I landed at JFK twenty years ago, filled with hopes and aspirations. Though I struggled somewhat with the language barrier, I walked from gallery to gallery in the then-blossoming art district of SoHo along with my resume and slides of work.

Time has passed and since then I've become an employee, a wife, and a mother in this land and, though my love for art hasn't changed, my definition of being an artist has slowly broadened. Rather than strive for self-expression, I've awakened to the responsibilities an artist has towards contributing to society. I volunteered my services as treasurer to the New York Japanese Artist Association then presided over the association as president from 2001 to 2006.

Our association is a New York State recognized non-profit group that roots its activities in the community and provides support to Japanese artists based in the U.S. while engaging in cross-cultural interaction that centers on gallery exhibitions and art seminars that are open to the public. As of 2007, there are approximately 50 artist members and 30 support members who are actively engaged in cultural exchange and community support.

My first task as president was to find a space for gallery exhibitions. Real estate in New York is very pricey and it was a challenge as an artist to rent a space suitable for an exhibition. Removing that kind of a burden from the artists' shoulders was a priority, but there were many long fruitless days of contacting Japanese galleries where I'd fall despondent after each case that went nowhere.

Then I recalled an incident when I was young in which Mr. Shinagawa, Director of the Tenri Gallery in SoHo at the time, called on me as a "fill-in" artist. An artist friend gave me the new Greenwich Village address of Tenri and so the three of us, former President Wada, then Vice- President Ichikawa and me, paid a visit on that cold day to the new location expecting to be turned down. Arriving at the building, a spacious high ceiling and expansive space greeted us. Mr. Shinagawa was not there but Rev. Okui, Director of the Institute, welcomed our sudden visit and lent a compassionate ear to the descriptions of our activities; he then lent us the space on the spot with conditions generously favorable to us.

Unfortunately, just before the first association exhibition at Tenri Institute, the events of 9/11 shook the world and at one point the exhibition was almost cancelled. But, backed by the support and generosity of Rev. Okui, the staff members of the Institute and the artists themselves, the opening reception began on schedule with a moment of silence to honor the victims. Seven years later, with the Tenri Institute as the association's main exhibition space, members of the community are now able to view our exhibitions at many Japanese galleries and companies as well as at the Japanese Consulate General. Not only do we hold exhibitions but also the Institute has been so generous in allowing us to use the space for art seminars, art fairs and meetings, even at times stepping in to help artists resolve issues with their visas. All members are filled with gratitude towards the generosity of the Institute.

I would like to use this opportunity to extend, on behalf of the members of the association, our sincere gratitude to a great institution that plays an important role not only within the Japanese community but also as a New York City cultural beacon, and still has the generosity to lend its hand to a tiny organization like ours. To Rev. Okui and all the staff members at Tenri Cultural Institute, thank you for always making us feel welcome despite the myriad of requests we always have.

This year Ayako Furukawa has succeeded me as president, but our mission to contribute to the community will never change so please continue to lend us your warm support. And, last but not least, we would like to wish the best to everyone and may prosperity continue to bless those in Tenrikyo.